Plaque and tartar can accumulate on dog's teeth and gums leading to serious gum disease. In order to prevent this you should brush your dog's teeth and take him/her to routine dental cleanings with a veterinarian twice a year. Ideally, dog's teeth should be brushed daily, however, this can be challenging if your dog is not used to the process. If you do not have the time to brush your dog's teeth daily you can try to do it every other day or weekly depending on your schedule.
Tooth brushing should be initiated at a young age to allow your dog to become used to oral care. Before a toothbrush is introduced, the puppy or kitten should be given gum massages so they have the experience of the mouth being manipulated. It is important that you use toothpaste specially created for dogs because human toothpastes may cause stomach upset in dogs.
How To Clean Your Dog's Teeth
With a soft toothbrush, place the bristles at a 45-degree angle toward the union between the gum and the teeth.
While pressing lightly, use short back-and-forth strokes and maintain the 45-degree angle for 5 to 10 seconds before repositioning the brush along the next group of teeth.
If your dog is reluctant to keep his/her mouth open, it is best to brush while the mouth is closed with access to the teeth gained by gentle lifting of the lips.
Perform this brushing technique with the bristles rinsed in water rather than covered with toothpaste because dogs try to eat the brush if its bristles are covered with dentifrice.
When brushing is completed, cover the teeth with toothpaste using a gauze sponge—this will provide antiseptic benefits.
About The Author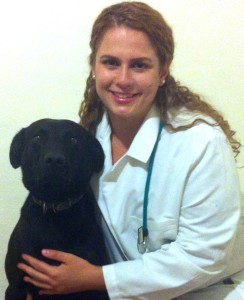 Dr. Stephanie Flansburg-Cruz practices mixed animal veterinary medicine and she has a special interest in shelter medicine and animal welfare. Stephanie enjoys volunteering at local animal shelters, reading, writing and traveling.
River Run Pet Sitters LLC : Overnight pet sitting, dog walking, dog sitting, cat sitting and pet sitting offered in Red Bank, Little Silver, Fair Haven, Rumson, Oceanport, Shrewsbury, Middletown and Lincroft, NJ