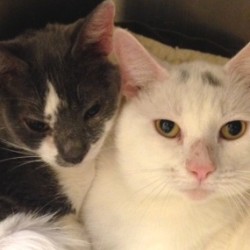 Names:     Lily Bug & Freddy Bear
Ages:         8 & 3 years old
Sex:            Female and Male
Breed:        DSH
How cute are we? We are mother and son. My name is Lily Bug and I am about 8 years old. My son's name is Freddy Bear, and he is about 3 years old.  We came to the Monmouth County SPCA with several other kitties and doggies because our owner was not properly caring for us.
I am a super sweetheart, if I do say so myself. I'm friendly and will come up to you and ask for pets! Freddy Bear can be a little shy at first, but boy, is he a mushball!
Freddy Bear and I are always curled up together. We absolutely adore each other, and we are looking for a home together. If you've been considering adopting a pair of kitties, please come meet us. We make each other very happy and we want to do the same for you!
Please call the Monmouth County SPCA at 732-542-5962 for more information. Adopters can also choose to email our direct email at:  adoptions@monmouthcountyspca.org
River Run Pet Sitters LLC : Overnight pet sitting, dog walking, dog sitting, cat sitting and pet sitting offered in Red Bank, Little Silver, Fair Haven, Rumson, Oceanport, Shrewsbury, Middletown and Lincroft, NJ! (732) 933-0270