Name:     Cassidy
Age:        5 years old
Sex:         Female
Breed:     DSH
Hi, everyone! My name is Cassidy and I am fun, friendly and front-declawed! I am about 5 years young. I came to the Monmouth County SPCA because my human mom had to move back in with her parents and one of them was allergic to me. So, here I am at the shelter waiting for my forever family to scoop me up and take me home!
I readily admit that I don't do great with change. Losing my home and people and then ending up at an animal shelter was overwhelming for me. I was terrified and I kind of shut down. I did not want to be touched and I didn't want to eat. I was so stressed and all I wanted to do was to be back in a loving home.
With time and lots of caring and patient humans, I have begun to adjust to staying at the shelter. The sounds and smells are still scary and there are new people and animals to get used to every day, which throws me for a loop. More than anything, I would love to be back in a home and to stay there forever!!!!!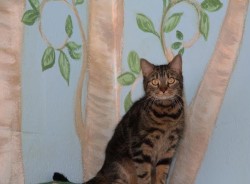 Once I've settled in, I am very outgoing and I love to be petted. I'm a curious kitty and I like to look out the windows and explore my surroundings. I like to play as well. I've never lived with other animals before but I would be willing to give it a try if the other pets were calm, quiet and respectful. I would be happiest in an adult home. I'm really just looking for some people to love and in return, give me a nice and comfortable life. Sounds great, right?!
Please contact the Monmouth County SPCA for more information at 732-542-5962. Inquiries can also be sent to adoptions@monmouthcountyspca.org
River Run Pet Sitters LLC : Overnight pet sitting, dog walking, dog sitting, cat sitting and pet sitting offered in Red Bank, Little Silver, Fair Haven, Rumson, Oceanport, Shrewsbury, Middletown and Lincroft, NJ