Name:     Popeye
Age:        11 years old
Sex:         Male
Breed:     DSH
Hi, there! I'm an affectionate loverboy!!!! Please pet me!! That's the way to my heart, and how I'll become your best friend in 2 seconds flat! I came to the Monmouth County SPCA because my owner passed away.
He was a great guy who rescued a bunch of cats that other people discarded at Monmouth Racetrack. I am forever grateful to that man and now, I'm so excited to find a loving forever home with people to love and call my very own.  I'm a mellow and easygoing guy. I'm about 11 years young.
I would make a very nice TV-watching companion (and I'll watch whatever you want to watch, too)!!! If you take a look at my left eye, you'll see that it's a little funky looking. It doesn't bother me, though, so it doesn't need any special treatment or anything like that. The only special treatment I need is to be loved by you forever!!!!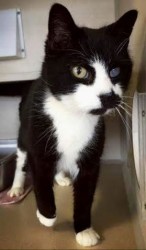 Please contact the Monmouth County SPCA for more information at 732-542-5962. Inquiries can also be sent to adoptions@monmouthcountyspca.org
River Run Pet Sitters LLC : Overnight pet sitting, dog walking, dog sitting, cat sitting and pet sitting offered in Red Bank, Little Silver, Fair Haven, Rumson, Oceanport, Shrewsbury, Middletown and Lincroft, NJ