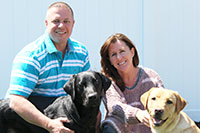 Nicole & Scott
Hi everybody, we are Nicole and Scott. Pictured with us are our Labs Cooper and Ripley and they are tail-wagging excited that we have become the proud owners of River Run Pet Sitters.
Just like us, we know your pets are important members of your family. That's why we are so happy to provide the necessary daily needs such as walks, exercise, attention, and love that your pets require when you can't be with them every hour of the day.
Along with our dogs, we also have 3 horses that we board out in Allentown. We personally know the importance of having the comfort and convenience in someone other than the two of us who can provide the quality care our horses require each and every day. This is the same assurance that River Run Pet Sitters can provide for you and your pets.
All of our employees are pet owners themselves. So you can be assured that we all love animals. We look forward to meeting you and your furry family members in the near future when you need our services.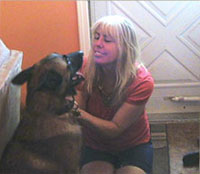 Laurie
My name is Laurie and I have been an animal lover my entire life. I found my home with River Run Pet Sitters back in 2010 and have made so many new 4 legged friends that I can no longer keep count! 🙂
I am pictured here with Jed, my 8-year-old beloved (and energetic) Belgian Malinois.
I look forward to meeting you and your pet(s) and I will give the absolute care that I give my own! I also help manage our River Run office!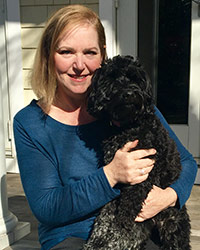 Nancy
Hi! My name is Nancy and pictured with me is my dog, Kasey!
Recently, I moved to the area with my husband and four daughters. I have always had at least one dog and really love taking care of your pets as though they were my own "furry children".
Getting outside and exploring the area neighborhoods has been a fun perk of this job for me. Snuggling lots of adorable pets is a good one too!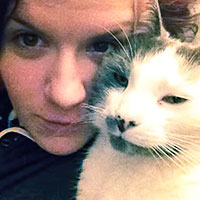 Pamela
Hi! My name is Pam. It's great to meet you. I adore animals of all types: from the furriest family members, to the scaly pals and from the most docile, to having limitless energy. My own family of loving ladies and gents includes three cats (Oni, Doom, and Steven Tyler – Ages 9-12), a Yorkshire terrier (Kirby!), and two rats (Jules and Vince) – all of whom have such dynamic personalities and adore the consistent affection and playtime they get.
I can't wait to share the same care I give my little ones with yours!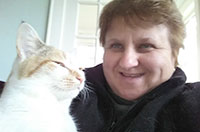 Karen
Hello, my name is Karen. I currently have two terrific cats, Maggie (pictured chilling with me) and Hailey (who was camera shy), both adoptions from the humane society. Over the years, I have shared my home with many other animals, all of whom were treated as part of the family—because they are! I am a lifelong animal lover, especially cats and dogs, and was a dog n cat sitter/walker for family and friends in my spare time before coming to River Run after I retired.
As someone who always had animals, I understand that having someone help look after them, when you cannot, can make their day brighter and more interesting and can give you piece of mind when you can't be home! Working here is awesome, I love meeting new animals and their people, and building relationships with them. This job is a dream come true for me!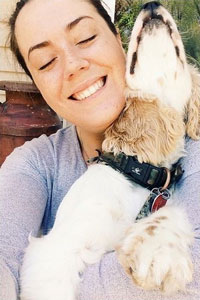 Courtney
Nice too meet you! My name is Courtney and pictured with me is my best friend Jack! Jack accompanies my fiance and myself on all of our outdoor activities such as camping and hiking or just exploring the world! I've always been an animal enthusiast since I was a child. From rescuing stray kittens or caring for baby birds too loving my furry family member Jack! Too me, anytime spent with a pet is time well spent. I look forward to meeting you and your furry family members in the near future. I will always greet them with the warmest of smiles and kindest heart because I know just how loved they truly are.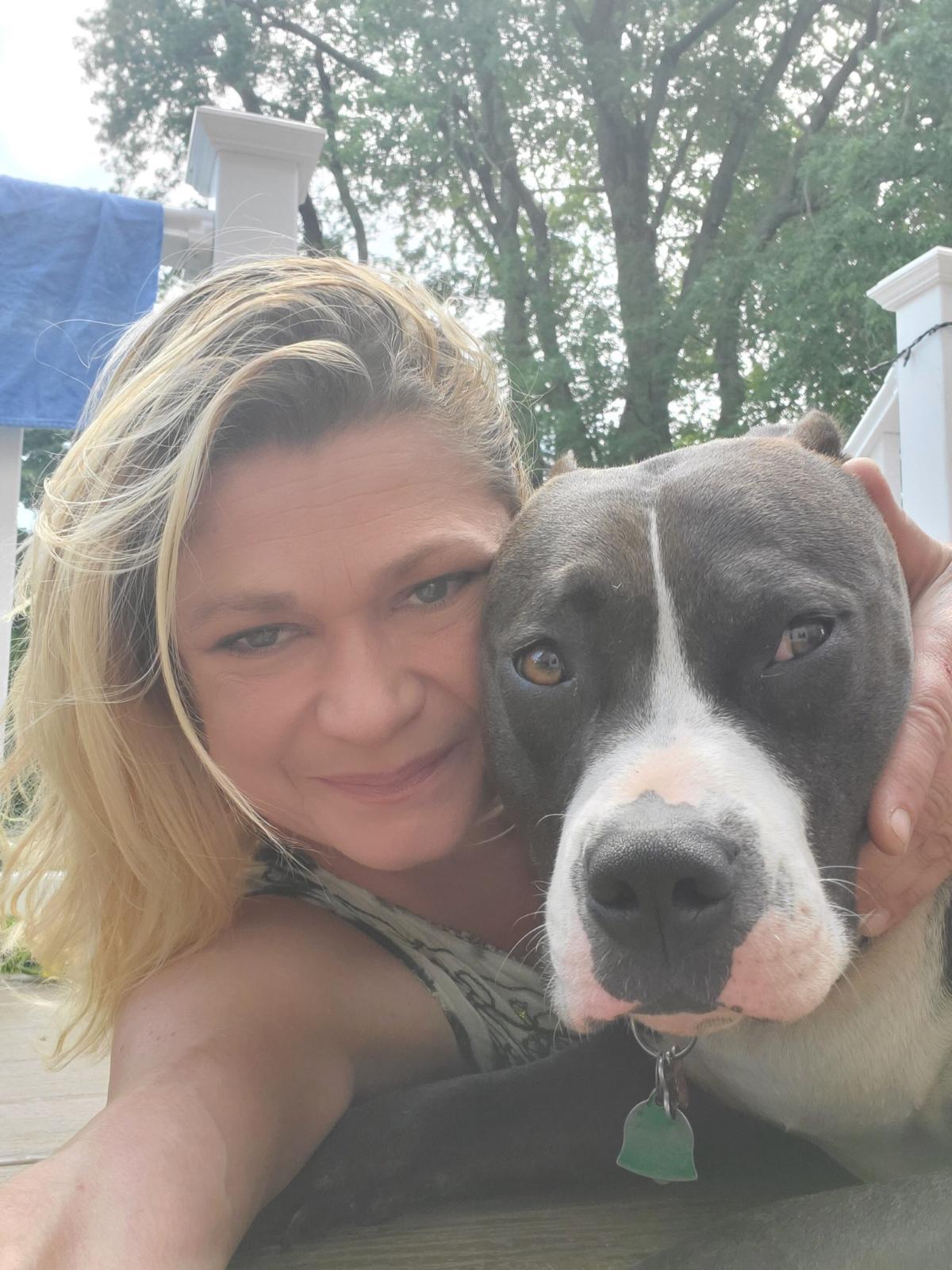 Jaime
Hi, I am Jaime and I'm a huge animal lover of all sizes and kinds. Pictured with me is my 2 year old Pit bull named Harley Quinn!
I also have 2 adopted cats and have helped numerous feral cats where I nursed them back to good health and placed them with loving families.
I promise to care, walk, run, play, and love your furry family members unconditionally. I look forward to meeting you soon.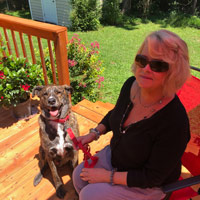 Jane
Hi. I am Jane Arliss pictured here with my friend Dexter. He is a 4 year old Plott Hound, and the state dog of North Carolina. I have been happily employed by River Run Pet Sitters since the beginning of 2019. I have always had a passion for animals since early childhood. This is a calling I take very passionately having taken care of dogs,cats, horses, turtles, fish, parakeets and a baby flying squirrel on our family farm.
I strive to be your trusted partner in pet care. My duty and goal is to take care of your pet the way you would if you could.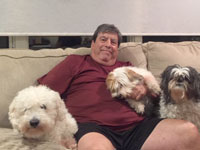 Joe
Hello! My name is Joe. My wife and I share our home with a Bichon (Fuzzy), a Havanese (Ollie), and a Shih Tzu (Milton). I cannot remember and time during my life when I didn't share my living space with dogs, cats, or fish.
I joined River Run this year and avoid using the words JOB or WORK because what I am fortunate to be able to do is clearly neither of these!
When I am in your home caring for your pets I truly treat them as my own. The greatest compliment I can receive is when someone tells me they are not worried when I'm looking after their pets. I sincerely love meeting new people and being trusted to take care of their pets.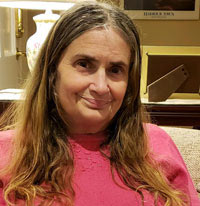 Karen
Hi, I'm Karen and in I'm pictured here with my dog Riley!
I also own two adorable cats. I love working with River Run Pet Sitters because I get to care for so many other pets other than my own.
I hope to meet you and your pets at some point in the near future.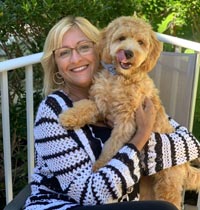 Melody
Hi! I'm Melody. I have been so excited to join the team of River Run. Having had my own business for nearly 30 years, I respect and appreciate the professionalism of this amazing pet sitting service. I have been an animal lover my entire life. While I currently do not own any animals due to my dance teacher profession, I will dog sit my "Granddog" Meelo shown here anytime. I look forward to meeting you and your pet and giving them all the love and care they desire.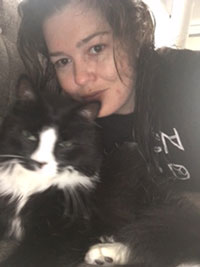 Jenn
Hello! My name is Jenn! Pictured here with me is one of my furry boys Jeffrey. I have always felt a deep connection with animals for as long as I can remember. I love being outside and enjoying nature. River Run Pet Sitters allows me to combine both nature and animals which I'm so passionate about. I treat all the animals as if they were mine and love seeing them happy and comfortable. Their unconditional love is priceless. River Run Pet Sitters is run by great people which makes it fun and enjoyable. Hope to see you soon!
Linda
Hi my name is Linda!
I started working for Riverrun in 2021. This is a pic of me and my boxer Bailey.
The most rewarding part of my job is being greeted by wag-tailing happy pups and smiling faces of all my Clients. They know I'm there to devote all my time with their furry family pets! I can't wait to meet yours!